ClimateChange UN 2014 project: transition to the next stage in Sustainable way
Author:
ANNAmain
• Date: 31 August 2014 at 12:19 PM
First 4 paintings for ClimateChange project`ve finished. After 2 days of preparation I`ve started the next stage consists from 4-5 paintiings.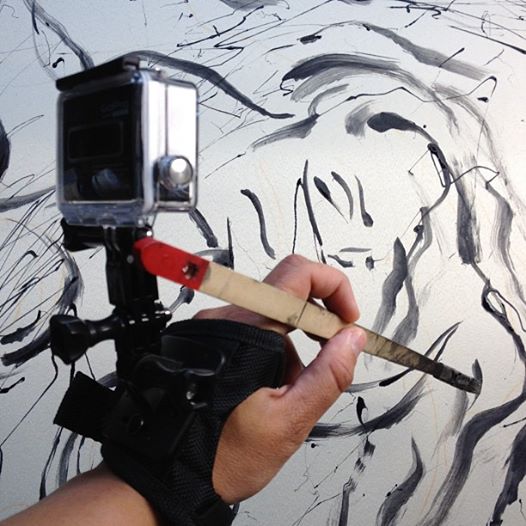 Preparing descriptions ans the ready presentations for the whole seria.
Transition from one natural step into another isn`t an easy one. Even when you control everything by yourself having all authority and skills, working in collaboration with the best specialists, it is not easy. This is a natural gap between steps which is the same unpleasant moment as adaptation for new body features we have at 15-16 y.o. The key for success is to understand what`s going on and to have ready proved model to check changes before it comes to so large scale so it cn costs too much.
It needs to develop self control also. When things come into different way you should have a strategy and experience how to react, how to utilize the particular energy in right way for the sake of the project and how to be proactive.
For example, several days I have a strong will to paint something different, beautiful with harmony and gentle colors, just to secure my own mood. But for the project work it needs completely another mood. I am painting unsustainable decisions and side-effects which is obviously opposite to my own wish.
Yesterday I had a kind of depressive feeling, expectable at that stage of the project work because I am investing so many energy in so narrow time boundaries so the body itself use sadness as a signal. That`s why I felt nesessity to correct myself by painting beauty. But with the deadlines to Climate change sammit I have no so luxury conditions for a week out of the project work. So I utilized my yesterday sadness into new 4 paintings which is obviously not so funny subject. My body now feel the same as I paint so I can use my left and right hand and make strokes and lines more informative, carring the message itself, the same way as in Chinese and Japanese calligraphy.
Now I am working with 4 new.
With such a knowledge we can decode our new possibilities and use it into nesessities in the most productive way. This is Sustainability in complicated circumstances, the example how sustainable network works.