Corporation LIfeCycle by Dr.Ichak Adizes: Adolescence Stage
Author:
ANNAmain
• Date: 28 August 2013 at 12:59 PM
Hello friends, today i would like to present you the painting represents the Adolescence point of the LifeCycle by Dr.I.Adizes.
That painting has a story.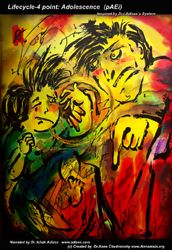 When I made my sketches to the subject and showed the result to Dr.Adizes he noticed Adolescence is Love-Hate relationship. So it should include with hight energy circulating between a Founder and a Child (which represents an Organization).
But in my first picture it was less relationship and tension so I suddenly realized that it was not the Adolescence itself. It was the Adolescence turns to Divorce and then to Primature Aging (you will see that paintings in next mails).
So the real Adolescence should be with strong interaction between sides involved, with attempts to help and collaboration but without integration between them. Also it should contains something from Go-Go.
Then I made a few steps back, observed several reviews about adolescence and then catched the point.
Interaction with strong feelings and energy is the base, also mixed feelings represents by the painting.
It should be acts and stop, all in unharmony manner, too late so more stronger, even rude, but with a strong reason to involve.
Tension and losses should be the part of the process because something used to be in harmony, integrated, worked in resonance now turnes into cacophony.
The Father on the painting looks cruel (I saw such expression on pictures made by people during psychotherapy ).
But if you pay attention to the bottom you will see the sharp fragments of something seemes dangerous just near the feet of the Child. Also flames of fire looks dengerous and it seems the Child`s feet has been very close to it when the Founder involved. May be it was unexpectable and unpleasant to both of them.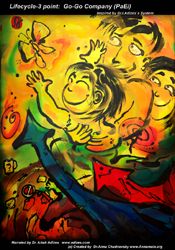 ...Here we still have gold curcles here, connecting the Founder and the Child with their hands. Glances direct in a sharp angle but not opposite, also attempts to make Integration still here. Everything is trembling full of new growth possibilities and tension about it, new personality just starts to show itself and to try how it could be, and the test of danger is here also.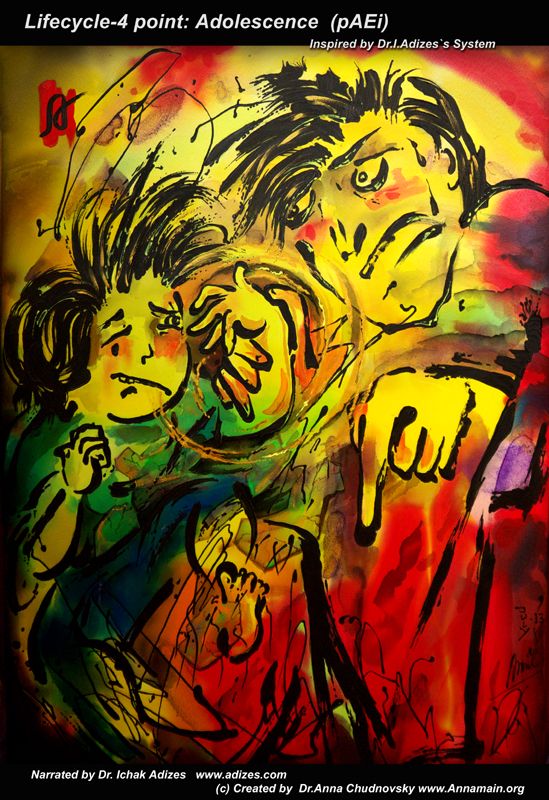 It was my attempt to describe the Adolescence stage by painting and also to put it in correct order with visual and logical connection with the previous and future stages. Next mail it will be the Deviation of Adolescence which causes the Divorce and Primature Aging of an Organization.
Thank you for being with me,
Sincerely,
Anna , just from Greece, ready to new tasks to do