LifeCycle Art Project presents the next stage: Premature Aging Stage
Author:
ANNAmain
• Date: 10 September 2013 at 03:36 PM
Hello friends, today i would like to present you the painting represents Primature Aging.
From strong connection and interaction in normal Adolescence stage deviations starts to make break when Adolescence goes to Divorce and in the last point of the process it will be Premature Aging.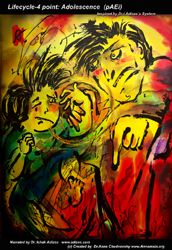 then
so
Such process seems easier sometimes. I daresay it is natural for those who afraids of ascention and grow potential, who prefers to let things goes downhill when gravitation does all work. Stagnancy is the natural result of such processes so it`s important to check it before changes becomes irreversible.
When people doesn`t understand their stagnation it`s not bad. That way the nature make such process easier and turns it to real Aging. But in Premature Age it is possible to realize what exactly was lost, what it could be in better way and to feel deep sadness about such deprevation. That`s why the details in the face of the Child-become-Granny is so important.
This is an impulse to act and also impossibility to act in hand`s gestures. The system starts to fall apart just by such small movement. That`s why the Child-becomes-Granny stucks between atempt to move free and needs to supporting the equipment.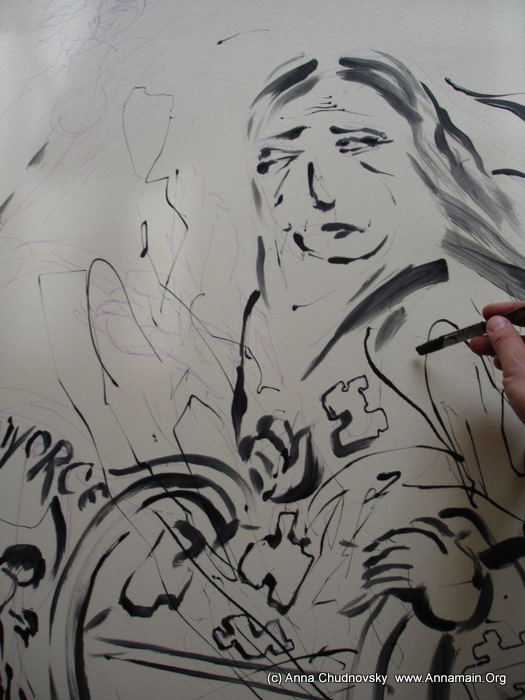 Details is important so the technigue of painting and the style is different from the previous.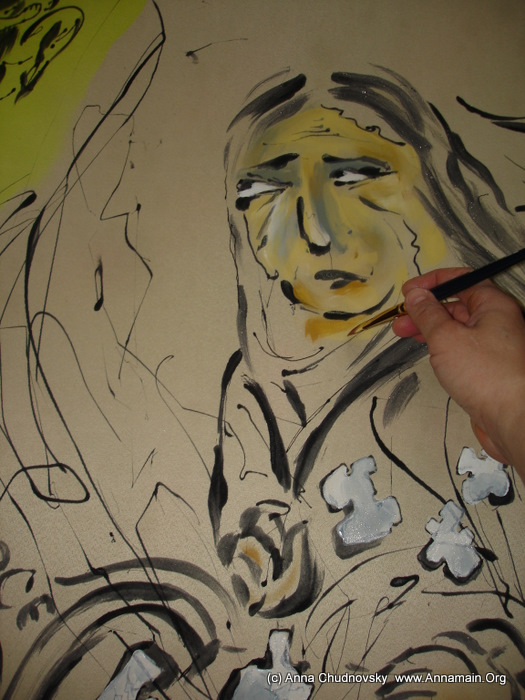 May be in Premature Age organization tryes to stop changes . But outside it still exists, much more faster then the Organization could handle. That`s why it is strong movement of strokes and colours on the painting. Nothing could be stoped both inside and outside so wind of changes pushes on Child-becomes-Granny to another stage of the LifeCycle.
There are three figures in that painting. The first is the central one represents Prematire Aging Organization. But it is not enough to meditation on that story, to realize how the process goes on in details.
Two small figures on the left side of the painting are also important. On the bottom you can see bowbacked Founder as the result of Divorce process. This is the power which was lost.
On the left up corner you can see a yang woman runs as quickly as wind with happiness of free movement. This is an ideal image of something the Organization could gain if it growth normally through normal Adolescence period. We feel losses better when we have an example of success. Unfortunately in Premature Aging such example comes too late to be a helpful dream. Now it is just an image causes regret and envy which are not helpful too.
Feeling of regret is familiar to every person so the painting has an additional mission to remind it clearly in meditation before it comes as the result in real life.
That`s why we need to visualize details of the possible bad result in order to use it as information to make decisions and to act consciously for the best future.
Thank you for being with me,