Changes brings funny things
Author:
ANNAmain
• Date: 16 January 2015 at 04:50 PM
Hello everybody, that week I am struggling for the new system to work. It is new work place, new equipment and everything is in mess around, waiting for the new order. It remindes me the last day in my Corfu holidays of last summer.
I was trying to pack everything in my laggage. despite of the fact O drop the most part of my things at Corfu to the next summer, it was a challenging moment just to disorder my room and to reorder it. It was the same feelings as I am experiencing now: between two different orders it is a gap with mess which is open to some funny things.
For example, at Corfu I opened my door and found a red cat and then invoted it to visit my room.
The cat started to sniff and walk, I was trying to prevent it from penetrate into my laggage, then I realized it was good to offer the cat some food.
...and some water too. I love cats so had some food in my room. The red cat accepted my offer: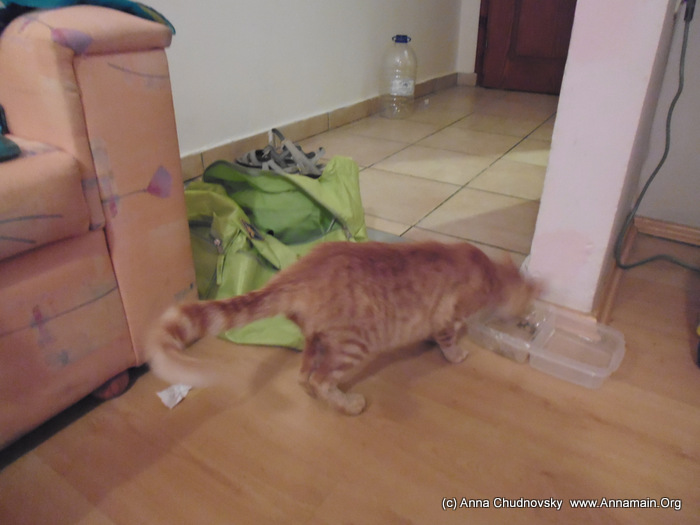 It was a strange feeling of home among different disorders around, a feeling how something funny coes with own order and brings a kind of rest to my head. It was nice. I guess, this is my advantage to love cats which gives me the rest at any time.
Now I remember that funny ephisode because everything is chenges at my work place, I am trying to catch the moment to try new things quickly, having time to ask questions from my specialist, FreeCat. Also this is the strong feeling of changes. I will visit UK next week and have to prepare things now. I have to make several new movies as quick as it possible before 15 of Febriary to push things ahead. Then I will be free from current fast tasks to continue my paintings which are waiting for so long time.
About associations of funny things… right now a program in my laptop was catched on steeling icons from my work table. Looks like a cat penetrate in my room secretely and do things as cats usually do. Things looks more easy and little bit funny with such an associations, so we`ve resolved the problem right now, making me free 15 min to make this post.
Next week I will start to post descriptions about #ClimateChange project, each painting, so have to make things organized before it.
Thank you for being with me!