Climate Change Project: the first 5 paintings
Author:
ANNAmain
• Date: 19 August 2014 at 02:10 PM
Today I finished in conturs the biggest painting to Climate Change project. This is significant moment, MDG Momentum: UN launches 500 days of action to build a better world. Just yesterday Secretary-General Ban Ki-moon`s marked 500 Days of Action for the MDGs. I am doing it.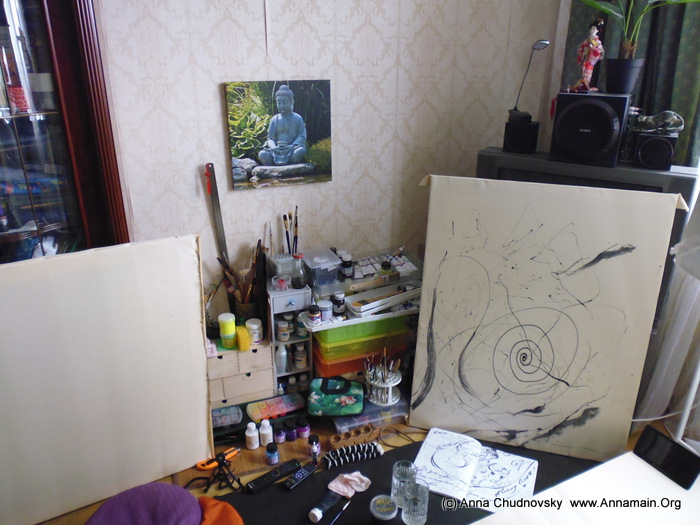 At that moment I have 5-6 paintiings have to be ready to the first week of September and additional 6 the first in the world environment paintings a little bit later. After it I will work with more paintings in different subjects concerns UN Millenium Development Goals, post 2015. Picture about the UN 500 days of action to build a better world yesterday event:
Read more about 500 days by United Nations here www.un.org/apps/news/story.asp
So this is the start of long activity, I guess so. Back to my work:
As I work in different subjects, not so private as previous, I will show the results after everything will be finished officially.
My hope for today it to do everything in time and have some time for myself, for beautiful project about the place I love, and for films. Now everything is in work mode, smell of white-spirit and benzine everywhere, colors, cameras, brushes, and over it beautiful music by Ramin Djawadi which helps me to keep the rhitm for work.
The biggest painting, 120x90 cm, for Climate Change project, has done in contours. That`s the most complicated part of the job. So I should go to celebrate it. Should I? Let's move forward.
Now I have to allow canvases to dry from the first conturs so I am going for a walk to keep my mind refreshed, then be back for my Nordic walking with weights which keeps my arms strong, then to work, then to have Yoga trening, then work, then….
See you!