#ClimateChange project and the outside Climate Change
Author:
ANNAmain
• Date: 20 October 2014 at 12:47 PM
Hello everybody, here it is the last news fron the frontline of struggle for the better presentation and future projects. It illustrates how it is important to make everything in time! Just yesterday it was automn and I did additional videos outside. And today what we can see from the window?..
Do you see it? Snow! Now! When the trees are still with leafs!
It was snowing the whole night and this is the result. Climate change!
I felt enourmous happiness tonight having the insight I`d canch all nesessity frames. So now we have winter, an early one, the gloomy clouds and it seems the snow became mud everywhere so no thing to shoot around. I feel it is the best weather to be covered with warm blanket and to sleep alot, but I have to concentrate and fit to my plans!
This time the wise advise of best friends is really a helpful hand. My Philippino friend Tony Toledo with perfect timing provided me with one good tool to concentration. Yantras. The ancient images which helps. Some people take this idea skeptically, some just belives in it. I have the third base to use it: science.
During my Physics education, I recall, at the 4d year in my University, I did my year work in the field of neuronetwork. It was the system of 4 or 6 equations, rather uncomfortable to use.
The practical result of the work was mathematical and experienced conclusion: the extremums of the function describes neuronetwork concentrates on sharp angles and prominent shapes so turn neuronetwork into more productive mood.
Look to the Yantras then:
You see, the shape is coming inside. Images influent us because this is the way neuronetwork is functioning.
I printed the Yantras Tony sent me and put it on the bright paper to catch attention. It make me comfortable to continue my work instead of bear sleeping which the weather calls.
This is my current work place: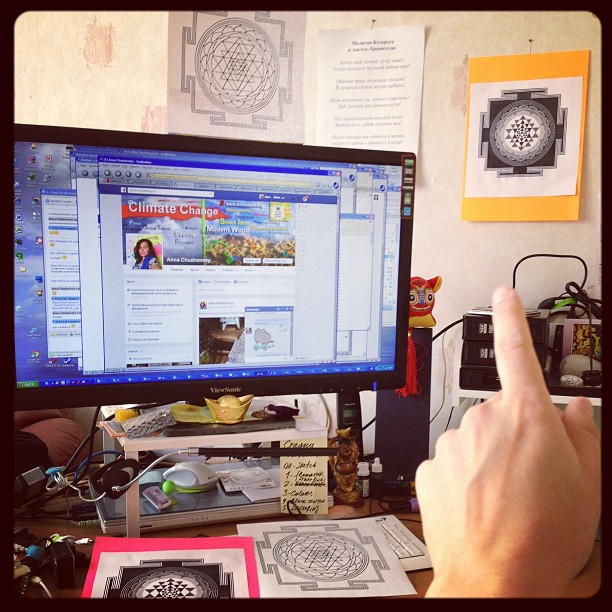 I put the Yantras onto my project boards and studio places too to make the effect more.
So, now I feel myself free co concentrate and to manage my ideas well.
At the end let me to make one note.

How to overcome natural obstacles
If you want to have really great work to achieve great aims, you should use all good proved tools you have.

Sometimes we are so busy so can`t see a good decision. Tht moment God speaks by our good friends. If you spend a time to remember all cases, you could found several very special persons in your surrounding. They can speak with you without any question from your side and provide you with assential advices, just in time/ Sometimes a week before the time you will really needy in things they describe. This is the special neuronetwork. If you want to gain a big aim, you should listen to such friends carefully. Care is essential, because they frequently speaks BEFORE you check your problem, so you could have a good advice in advance. It needs to be careful to remember it and to put it near in order to use when the time comes.
I will make some more notes about it later, may be make a film to my channel to educate people how it works. Right now, with so limited time, I just want to underline how it is important to keep friendship with care and to take things friends say into real deeds.
Good luck, thank you for being with me, see you!
P.S. Just for fun here is a picture of my student conspects which was much easier then the course work