Deep Blue and winter white: Limni beach
Author:
ANNAmain
• Date: 07 August 2011 at 03:14 AM
Last year I crossed our bay with flippers and mask from "La Gotta" bar (point 3) to Limni beach(point 4 - also see post http://annamain.org/site/comments/my_odisseus_trip_corfu_20_of_july/ ).
Today I`ve made a trip with flippers from point 1 to 4 directly. The sea was quiet and soft, without waves it seemed like a silk fabric. As I saw it was a big shoal of small 5-10 cm fishes flyed in deep blue crystal water. Blue, green-blue and emerald green - this is the colors of that blessed waters I love, healing colors for soul, body and mind. And Limni beach has winter white stones.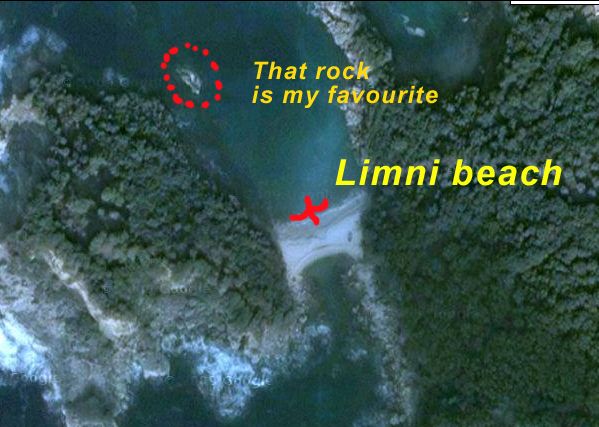 I was a little bit indisposition yesterday and today I literay need to found a place which could cure me. Limni is the best, I spent from 12 AM to 7 PM here, absorbed colors, quiet and sun by all cells of my body. No thoughts. No emotions. No movement. Existence itself as it is, liquid harmony in silence. Only healing power of the place, mixed from sea and stones, which power ideal for Capricorns. I receive it in time. Today is my 22-th day here, and 3 days to my departure so I want to feel and absorb everything.
I was back point 1 (Liapades) when sun was hiding behind the mountings and shadows fell to the sea.
Lost words, thoughts and emotions, I was so peaceful then nearly fell to sleep on the dinner.