Author:
ANNAmain
• Date: 31 December 2014 at 01:35 AM
Dear friends,
today is the edge between last year and the new one. It shapes our experience into pieces so we can count it and remember clearly.
All things we was doing during last year form steps to the new one.

This time it is good to feel what was exciting and important last year. The same way to catch, what was the new steps we succesfully passed. And remember what efforts we did to gain our aims, what obstacles overcame and may be to feel joy as a winner.

This is important to personl development, to turn out neuronetwork to proceed things in better way. So we are the best supporters for the best future that way.
That place I did my first NatureClose painting as the part of Climate Change 2014 project. It wasn`t so easy to visit that place with all of equilment for painting.
Many uncounted obstacles worked against.

Some things I planed wasn`t so easy as it seemed during planing. Some was changed during the process. Just as a small example, I counted the time in wrong way and sun started to dry colors right on my brush. The shadows worked against, being too dark on the direction of the canvas. And wind was strong that day to blow everything out. One time it happened. Then I founded stones you can see on the picture, and it wasn`t a trivial task as it seems.

Now it is funny to remember how I straggled to catch everything and don`t allow it to be blown or dropped. The obstacles I overcame turned me into new direction of thinking. It will be really interesting!

It is so important to catch the moment of bright aims in nearest future while I must work without a break to finish everything in time.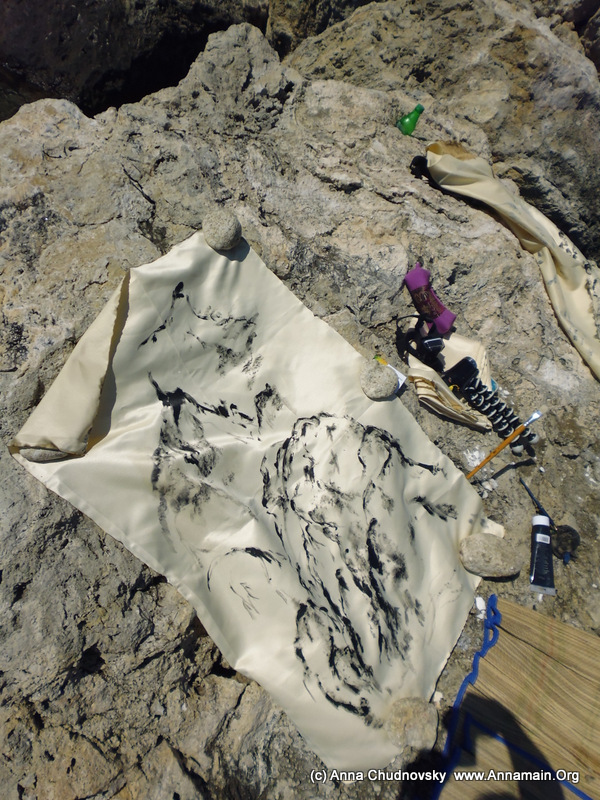 I am glad to see on that picture what exectly I did.

I wish you, dear friends, to found some pictures which relresents the best moments of your 2014 year and carry the message of future development.
Wish you to keep health, of course! Thank you for being with me!
Sincerely,
Anna