Imagination Joking-1: how I started in serious mood and what happened then
Author:
ANNAmain
• Date: 17 March 2015 at 01:29 PM
Hello everybody, when one project`s stage has finished it is a natural gap. Many people stuck with it and feel out of inspiration, out of energy. The threatment is to have another project to work. It`s so exciting to keep mind full of new ideas in many direction, so I have a lot of ideas to change style of work and save my time.

The Nature-In project itself started from serious purposes. So, here it is the next stage for my Nature-In project, with my sketches started at Corfu: Let`s see what it leads for!

To proceed the project I faced the challenging nesessity to improve my ActiveBase technique and style to fit my new ideas and new tasks. My own technique relates to Chinese painting Xieyi. Xie means to write and Yi the meaning. A famous Master of Chinese painting, Zhang Daqian, said that Xieyi indicated the fact of drawing the spirit of the beings. Painting Xieyi uses many techniques of calligraphy which privilege the spontaneity of the line. Paintings Xieyi are thus very quickly carried out but it needs a very long experience.
Now I want to mix it with something different, much more detailed, realistic, so I decided to take some education about Gongbi Chinese style of painting en.wikipedia.org/wiki/Gongbi (simplified Chinese: 工笔; traditional Chinese: 工筆) in order to improve it for my technique and style.
Started from my Corfu sketches, you can see it is detailed and was taken from real place I spent a lot of happy time every summer: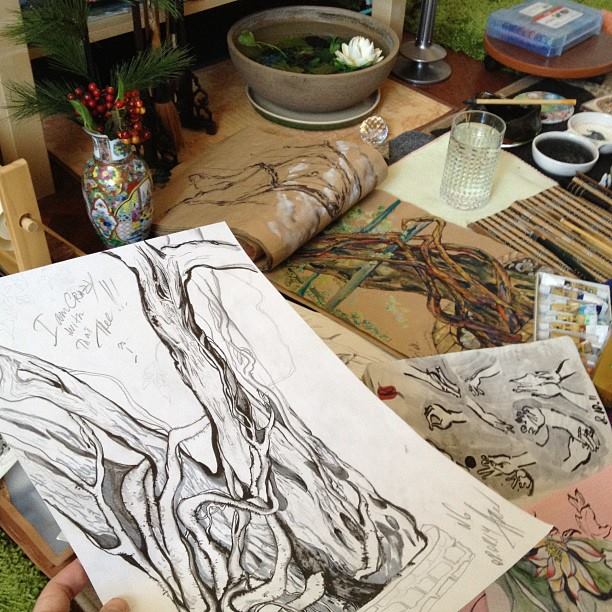 It leads me to DongBi class.
I just learned some important information about structure of rice paper and how to make the detail contours before painting. Normally in GongBi style people use other`s contours to copy onto their pictures. In fact it is a kind of copying, a long road to improve own hands and eyes. I love how it looks and truly love Chinese paintings, but still have so much ideas to create so I can`t invest my time to copying before I try something by my own.

I have a special place for my Ink drawings with small waterpool and many Chinese accessories to keep my mind inspired with the athmosphere.
It was just the first look, but I can`t stop at this. With fresh-bought rice paper I ran to my studio and started something… something! That`s the beginnind of unknown road I always like: Liapades bay, right side, in early morning, and lotuses rising from somewhere at the bottom. The idea completely cover my own feelings to that place which call me to be back year by year. So, the first painting in GongBi style:
When the lines should be transfered onto the rice paper and contoured by ink: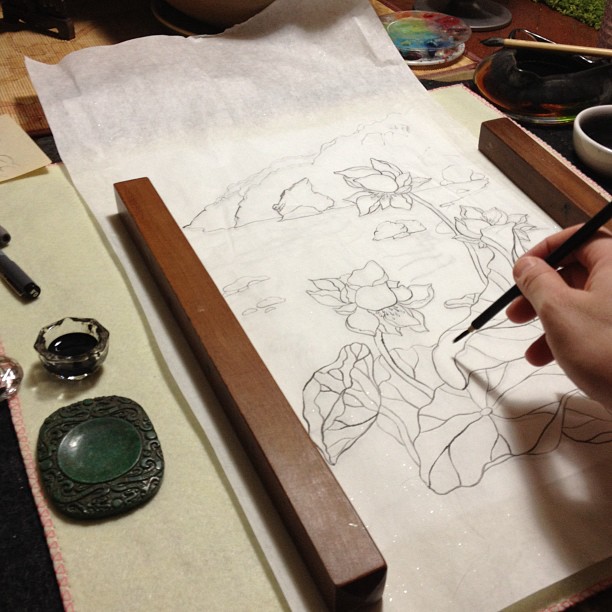 My ink isn`t good enough, I suspected it will be floated by water colours, so I tryed to use acrylic color for the contours. The joke is, here it is one cat from Liapades who literary drops into my picture and hides among lotuses:
Cat? Here?
As I have zero experience in painting cats in realistic manner? No way in traditional style!

But here it is the picture inspired by the special place and the cat was the native habitat of it, so it became the part of the painting around my conscious will. I love it in painting and I love it in cats

So, you can see, strict Chinece GongBi style started to mutate in my hands

The results will be in the next post