Morning pleasures: Dragonwell tea and secret plot
Author:
ANNAmain
• Date: 27 May 2013 at 10:19 AM
Hello everybody, I have to confess my custom to eat, drink and sleep with a project is fruitful but not so healthy. So I am trying to go to sleep ealier (not at 4 AM) and get up ealier too. So I was trying to remember what`s exactly is good in a morning if I have no sea here, and I remembered at least 3 things.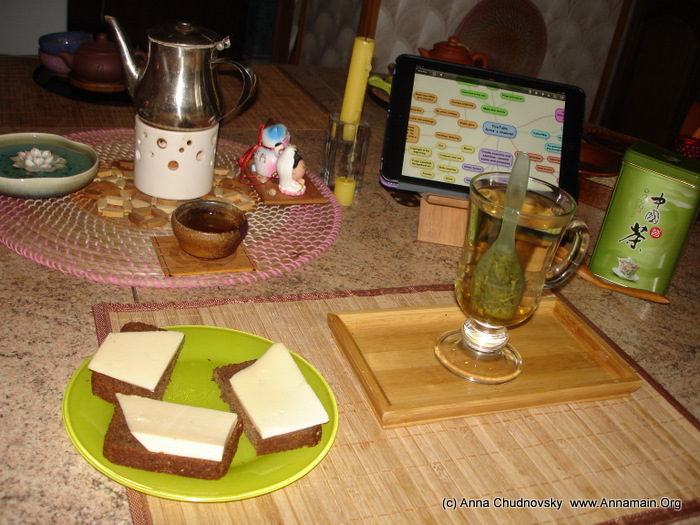 First of all is to paint the base things to an art object just because it`s boring anf better to do in early morning, when my personality hasn`t downloaded at all from god`s iCloud. Ha-ha, it`s the reality! Then I go to my ecology style place in my kitchen to have my tea. Today I get up really ealy, because I helped my friends yesterday all day and was exosted and felt asleep ealier too. So today morning I want the Dragonwell green tea from Shanghai, it better then coffe and has a grass-like test. And today I has black bread and cheese for breakfest. It is the second morning pleasure I forget because last 2 months all of my thoughts was focused on Cyber War project and then in Adizes Project so I had my meals automatically just what eatable it was in my refregirator.
But today… OH my god, it is the real pleasure to have morning tea without any hurry!
I like the fine taste of black bread and white cheese, that`s why I am a lacto-vegetarian.
The DragonWell tea is a really good companion for it!
...And, listening spa music, I observed my Secret Plot which I mind-mapped. Mind-mapping is my favourite game with ideas because it`s natural way to prefent ideas exactly in the way I think about. I have about 50 Mind-maps to my ideas and that year I started to make mind maps to conspect books I read. It`s very helpful especially for scientific books in neuroscience and psychology fields. So my secret plots exists in Mind-mapping and I can observe it being lazy in my first calm early morning in that two months