Organizing work place: "Cthulhu" cable knots
Author:
ANNAmain
• Date: 12 January 2015 at 05:37 PM
Hello dear friends, new year comes with new tasks. If you want to gain new level of aims it neds to change something at work place. The most easy way to do it is to conquer the knot of million cables right under your work table.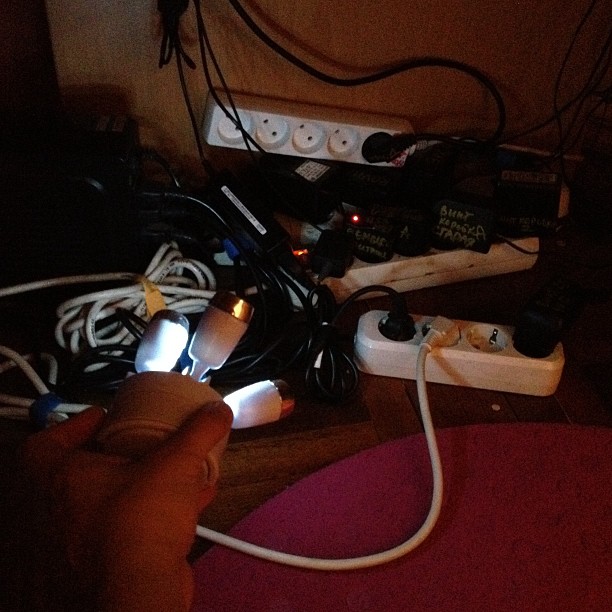 Sometimes it has long history and in my case seemed as "Cthulhu" (a character with many palpuses by G.Lovecraft en.wikipedia.org/wiki/Cthulhu ). Scaring! No wish to manage it. But…
I was annoyed by ugly cable knot for a long time, having no wish to manage it. It was really big and ugly. Actually I scared to do something wrong. So I was waiting for my IT specialist to control how I will make cables straight, labeled and in right order. It is nesessity for my current filming process. So, the first task of the day for me and my IT was to conquer Ktulhu and make the cables straight and righ. (It is pity I didn`t make the picture of the previous know just to compare it, but I felt no wish even to make a glance.So On the picture you can see the current right order.)
This is several ideas I would like to share with you.

How to control your "Cthulhu" cable knot:

1. A cable knot is the thing everyone experienced. So if you found is scaring it`s OK. It is really scaring. It has a long histiry, sometimes 5 and more years. Especially if your equipment includes different kinds of technology sensitive for voltage etc factors. The poiint is, such cable knot eat your time. Just manage it one time in good way and you will be free.

2. To conquer "Cthulhu" cable knot you should agree to spent about 2 hours and switch off your current work on all of the equipment. First of all, it needs to unplug the cables from UPS and make it straight. No knitwork of chrocheting here!

3. Use velcro and special clips to tie extra length of the cables. Velcro of different colors is great!

4. Mark all the power supplies with permanent marker to what equipment it belongs. I`ve used gold marker and satisfied with the result: everything is clear now, I can plug and unplug everything without losing time to found the right end of the cable.

5. If you have a lot of USB ends in your USB hub, it is good to mark each. It looks so identic with black color so it take extra time to investigate to what equipment a particular USB belongs. It really costs time and nervous just because if yiu replace a wrong USB it could make damage to hard drive, for example. I have 5 hard drives so need to mark every USB cable. Really useful.

6. Resist your natural wish to make some more new cable knots right after you finish the hard work with Ktulhu. I founded myself making new cables twine around my fresh order and stop myself immideately. OMG! Ktulhu is somewhere near!

This is just several notes right on the time I am doing the work. I feel so refreshed now, with all cables clear and well managed, so I get the point: such a simple thing make my thoughts clear and I am sure making fast decisions during work. After all, if you have a cat, it will be much more clean sitting under your work table. It`s good for all!
Thank you for being with me,

Anna the Conquerer of "Cthulhu" Cable Knot