Author:
ANNAmain
• Date: 22 July 2013 at 02:30 PM
One of the most important things in project wok is to organize own mind processes correctly. What`s the term "correct mind process" means is unclear and seems different to different people. I can tell you about my own.
It`s more easy for me to work with several pojects simultaneously, because it is normal state of human mind and needs just to be well organized. Our brain network is more powerful then best computers but it has many characteristics to work with. For example it needs to know how to construct input and output mind processes at the beginning, in several middle points and near the end of a work period. When I check a new idea interesting me, I becames vigilant if it starts a new mind mapping or not. As I realize a new mind mapping starts, a project seems to be prospective so I make several key notes ans let it be developed in my neuro netwok in natural way. To support such processes I use painting of something not so important but attractive and curious. So while my mind works inside, my eyes concentrates on outside objects.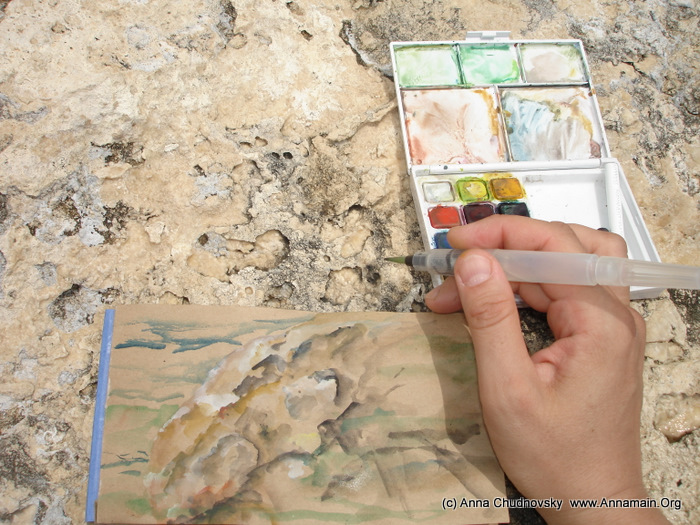 On my Office Rock I was interested in it`s surface. Colours, shapes, natural curves. It was not something specific but something important as a support of current mind mapping and who knows what more. Usually it is much more but it will be understandable later. The time I painted it I just did it.
Once I compared my current experiance with my previous I did last year, you can see my drawing of Corfu-2012 on the top of the picture below. Experience shows my feelings of shapes has changed from more smooth to more sharp, also it is different places with different kind of mountings so… what`s the conclusion about it? May be I will do it later, not now. Now this is just the observation , a new input data to my mind.
Once I realized the colours of the Office Rock is the same as human skin! Can you see it? It was the first insight about it, may be because the rock has obviously different features then human body.
The insight was a good result of that day so I fall asleep here and jumped to the crystal green water, felt it as a liquid emerald.