Uk, Birmingham, Michelin star`s lunch-2
Author:
ANNAmain
• Date: 28 January 2015 at 09:33 PM
About the lunch I would like to mention, it was in degustation mode and this is really great. We was able to enjoy every dish from 9-items list without hurry.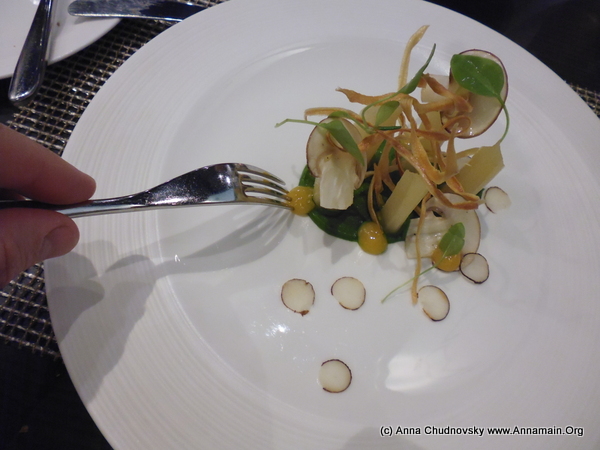 Although I didn`t make better pictures with flash, you can see how complicated is the design of every dish. Sometimes it was a real engineering construction in 3D. It was a pity to deconstruct it so I spent some time to enjoy the view and now enjoy the picture to remember it.

That dish was made from salsity, egg yolk, parsley, all products from Gruner Veltliner, Hopler, Burgenland, Austria.
This one is saffron risotto with curry and roasted couliflower. All products was from Viognier, Yves Cuilleron, Rhone, France. You can see how tiny is the couliflower`s slices. I bet it was a nano-knife to make it. Everything was so miniature and fine designed so I wished to have a good light, macro lenses and may be a magnifier to be able to review every structure of it! May be I should do it next time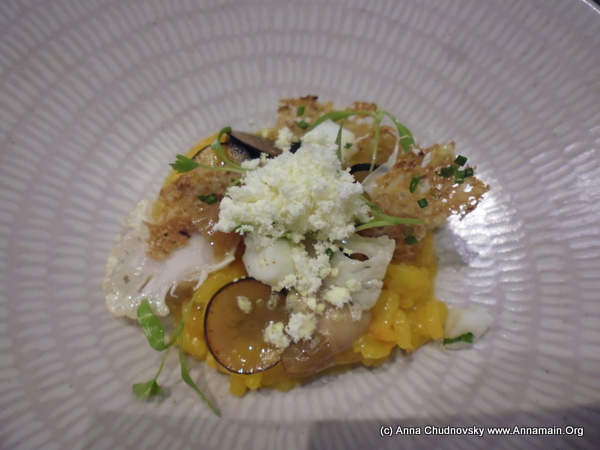 This is the dish of my partner:
The bread was really great with normal slices so I felt myself reach to take it and to eat it with full simply joy!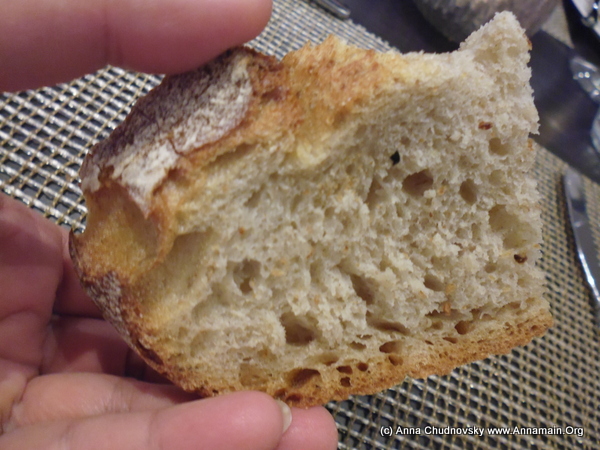 Here at the picture you can see the size of the dishes. It is the special portions for degustation. It was so good so we ate the whole lunch during 3 hours without any hurry, having business conversation during it. I like the way how it was. Business conversation becomes smooth between the changes of the dishes and we wasn`t too much busy with eating so invested our time in better way. That restourans is frequently used for business meetings with directors etc right for that reason.
That dish was made from baby artishoke, tomato, garlic and something more I didn`t remember clearly. The products was imported from Spain.

The tiny leafs looks so cute so reminded me mini-aquariums from NASA technology. It was a pity to eat it, but I managed it wit pleasure.
The next one:
My next dish from brassicas, sprout leaves, hazelnut. It is a mistery how it was cooked so no ideas about.
Here it is pearl barley, white onion and baby carrot. The baby carrot was about 4 cm long with 3 cm long leaves. All was cooked somehow to remain the structure of each product, with a souce to enrich the taste. The engeneering constructure of the design reminds me some modern buildings.
This is the first dish from our deserts. Jerusalem artishoke, caramel, peanuts.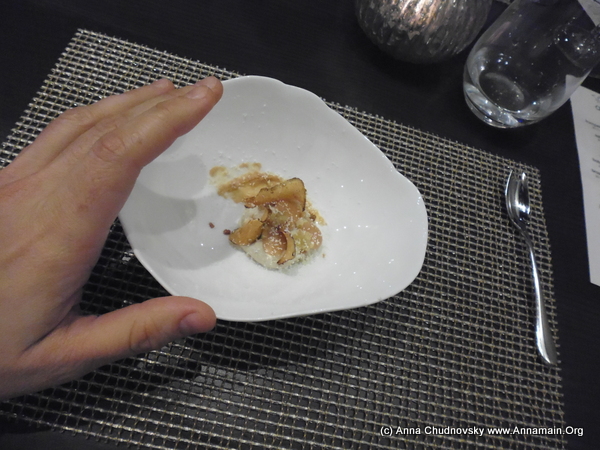 The second sweet dish was completely amazing. Milk chokolate, clementine, shiso, lemon forms so mesmerising taste so I wanted a big portion. Very big actually. Incredible big!

This is not the end, I have some more pictures for tomorrow.

That moment when I am remembering what was yesterday, sitting in the office, working, is the great argument to use camera whatever you are.

See you!