World Culture pro: similarities between China and Greece-4
Author:
ANNAmain
• Date: 16 August 2015 at 11:54 PM
Hello dear friends, while I am staying at Corfu prototyping my Climate Change and Nature-Close projects, I make more notes about similarities between China and Greece in cultural field.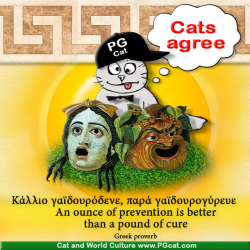 Let`s see matched Chinese proverb:
That two proverbs forms a pairing phrases, each describes different part of the theme.
Κάλλιο γαϊδουρόδενε, παρά γαϊδουρογύρευε English equivalent: An ounce of prevention is better than a pound of cure
良药苦口 - a good medicine tastes bitter
If we use both proverbs in Antifragile way like that: as real medicine tasts bitter it is good to invest your time and attention, and money as well, to take care about prevention. It works perfectly for body needs, and for mental or emotional fields also. In addition both proverbs are perfectly fit to the art of management, in every business activity, as well as in any aim. When you think about prevention it means you have a good mental model of future possible issues so you are the person who could choose the best way among anothers. It means, that moment your neo-cortex, the pure Human part of the brain, works. HUman brain can make differential choices, as opposite animal part of the brain which just follow emotions in instinctive way never make model of possible future. In out times of great changes it deadly dangerous, because everything are in changes and no instinct could cover so different situations in so fast growing dificulties. So Antifragility represented in cultural field by proverb advises us to think and make human choice instead of fragile animal. Not an easy task for everyone! But you know, real medicine really tastes bitter.

You can found another posts about similarities between China and Greece in cultural field here annamain.org/site/C14/
Here there are matched Wallpapers, click for full size 1280 x 1024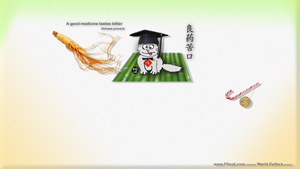 Here about Greek proverb: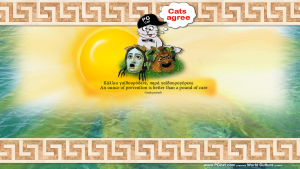 Having some motivators and wallpapers it make some trends into deep subconsciousness so it works for you. Be Antifragile, be successful, share good cultural influence via social network, win!