Author:
ANNAmain
• Date: 21 February 2015 at 11:41 AM
Hello everybody! Do you know the meaning of red color in most human cultural all over the globe& it is the same: from ancient times, red color recognized as color of life, joy, happiness, energy, new start. At the first several days of new year it is good to attach ourselves to it. Click the image below to download:
Here it is a new wallpaper, especially for Happy-New-Year period. Symbols of energy, wisdom and good luck are here: red lanten from Chinese Spring festival, lucky PG Cat with "Happiness" hyerogliph on his neck and on his cap, actually it is official governer`s cap in old Chinese culture, the symbol of bright career as the result of self-education and development.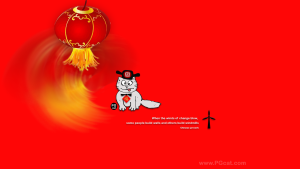 We all are living in the times of changes, whatever we think about it. It is no choice better then to educate ourselves and to catch our best chances. That`s why here you can see an old Chinese proverb with very modern sybbol of free sustainable green energy: wind mill.
In new year I wish you to keep the stream and to use it in the best sustainable way.
You can download the full screen wallpaper here pgcat.com/wallpaper/index.shtml