Anna`s INpainting technigue: why I did it
Author:
ANNAmain
• Date: 29 January 2011 at 04:30 PM
I was born with art, as I remember myself I feel energies, things I couldn`t designate and term, things behind the stream of matherial things. From my childhood I tryed to understand what exactly is it, what it means. But there was no true words to explane, and no ways to show it. So I deducated more then 20 years to do it. For such purposes I created my Inpainting technigue.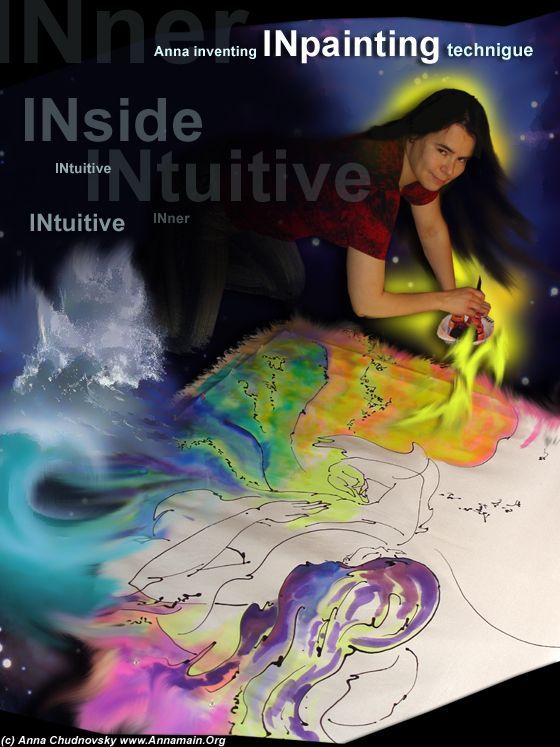 It was not easy to understand things I can`t even to name. I started with the question what is a sound and deducated 9 years for violin. Then I spent 1 year in medical colledge to learn human body, then it was mathematics in school. Next step it was 5 years in University to study physics of many branches, from atomic to quantum and many othes subjects (you can see the facts here http://annamain.org/site/facts/ ). Why I did it? Because I desired to learn how the Universe works. Why I didn`t continue a physicist career? Because it was no true answers.
Then it was business, economy and Ph.D, also I stidyed psychology and religions. It was more details but not the clear answer. All that time I used my intuition and painting, made sketches because it was the true way our subconsciousness shows the basic symbols. It was the hard period because every art technigue I used wasn`t ideal for the things I saw and wanted to show. Watercolours, oil on canvas, pastel, graphics - everything has strong limitations conditioned both by matherials and technigue. It wasn`t the art answer I desired, then I started to work more, tryed many matherials and instruments, also polished up my mind and my soul to support clear view and prevent myself from being crazy. It means I made myself to use both right and left brains to make balance and to dip more in the Rio abajo Rio, World-under-Words.
It was hard, and I won.