China Adventure: TianTai Buddhist Temple-3
Author:
ANNAmain
• Date: 08 October 2013 at 10:52 AM
TianTai Buddhist temple was one of the most impressive places I`ve ever seen. So fine shadows of green, gray, and shining of waters! I wished to stay here for a month, without any technical devices, just with my brushes.
That visit I dedicated to work, to shoot film and fotos, so I had no really meditative time being alone. Hopes it will be possible once in future! But I forced my mind to fix all features in strange archivation mood I developed in my past. It allows to suck in information without loosing time to feel it. I developed that style as a tool in dark times when books are forbidden or unawailable, so when I was lucky to borrow one to one night I must read it at all in order return for tomorrow. Not a plrasant thing but a good tool to pack information quickly and unpack it later whereever I want.
So I do it now observing my pictires. Let`s go!
Persons who invented the structure and architecture of Buddhists temples was genious. So fine harmony and balance represents their spirit and balance. Such environment support such feelings in other people who could see it not only by eyes.
Just feel it rhytm.
Sharp: leaves of the trees in it`s motion. Sharp: ends of roofs as silhouettes on clear sky.
Stream of lines goes down: columns slightly scratched by time, tile slightly touched by moss. It`s general lines drain down to the temple`s yard.
Square straight lines of the yard are softened by bindweeds like a smooth waterfall washes from walls. Round stone seats stands in seeming disorder creates new rhytm, dancing of stable stone shapes and moving shadows of trees. Just try to feel it, stability and constant movement, and when it happens you will feel the rest, true rest in eye of storm.
This is the essence of meditation.
That`s why people comes here from big citis to meditate.
On the top of the complex I founded stone garden. This is no common points with math regularity of Japanese Stone gardens. Everything in TianTai temple looks so natural so seems accidentally dropped stones for untrained eyes. You hardly find a system in it when you try to found similarity. It was done by feeling rhytm.
Look to the picture: round shape of artificial well (it is only 50 cm depth) underlines sharp stones. Horizontal edges of stones accompany vertical shapes. All stones looks a pieces of rocks dragged by snows or waterflood in ancient times. But it was placed here by human hands. This is the high level of feelings being in resonance with vibrations of everything.
Unreal athmosphere of that place produced by games of sun light and how it was filtered by green leaves. So everything drowned in mystic jelly of green light. Rounded shapes of stones and moss on it`s surface, moss on the bottom of walls, and green grass about it. It represents temporary things dancing on the background of Ethernity.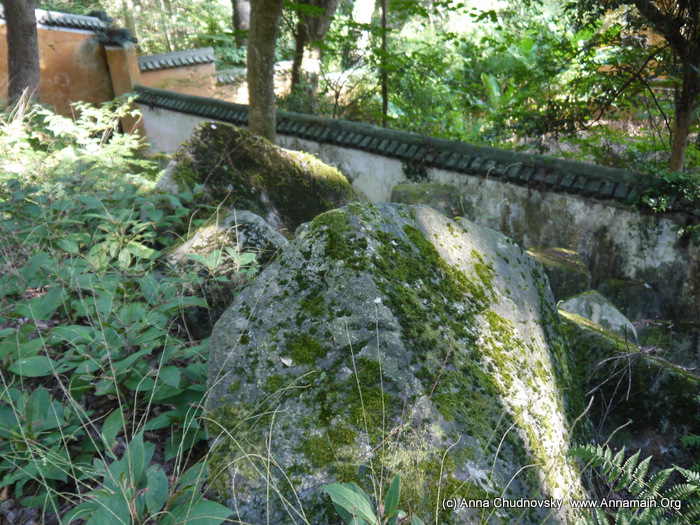 Well, this is just my shadow on the corner of walls, not less and not more.
Thank you for being with me! I will show you more in next posts!