Happy birthday, my Lizard. Master-class with aqua-pencils
Author:
ANNAmain
• Date: 07 May 2010 at 11:37 PM
Lady and Gentlemen! This is one thing to say about my today activity : tired. A lot of students and their works made my mind heavy as a stone. So I wish to do something creative in hope to have rest, peace and good sleeping.Here it is something like Master-class from Anna.


I would like to invite you in spiritual journey in Lizard`s life. For it I used aqua-pencils by Derwent, ink-brush by Pentel, water-brush by Sakura color products corp and unnamed peace of paper.
First of all I invited a Lizard in our world by using ink and pencils. You can see the differences between left and right sides of a lizard. Left was colored by pencils, and right - by pencils and water-brush.
Here you can see how to waterworn aqua-pencils by waterbrush.
I had no idea what was the hair design of the month for lizards. So I made the back orange and red and smooth the colors by waterbrush.
This picture represents a sketch for my future project Arts-and-Knowledge (A`n`K). So i have to put the Lizard into changes of the 4 Basic Elements, Water, Fire, Earth, Air. Therefore the Lizard and I agreed to have some more water in the picture.
Lizards generally prefer warm stones. I felt myself answer for the lizard`s health and made the stones as warm as it possible by yellow-brown colors. As I could see the Lizard is helthy and happy.
I used water-brush to waterworn the colors of waterfall and stones. Then I had felt a wish to make outlines better and used ink-brush.
Now here it is the Lizard itself. I guess it is right time to name it. It was a problem to understand who is it, male (George) of female (Sue).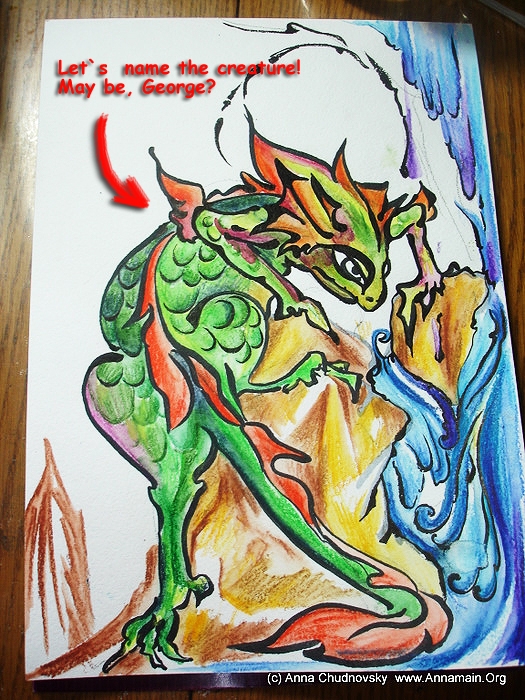 Common law advice me to made the Lizard hermaphrodite named Sue-George.
Eventually I tryed to joke and used old strange aqua paints for Sue-George`s make up. Here it is the result.
Welcome, Sue-George!