Six paintings has finished!
Author:
ANNAmain
• Date: 20 February 2011 at 11:46 PM
Well, I am glad to say that my new 2011 art gallery has opened with 6 pantings. Oh my god, how tired my back! But I did it! Here it is the list of it and next day I will show each with it`s description. 1- "The End of Waiting" ; 2- "The Rising: Plato"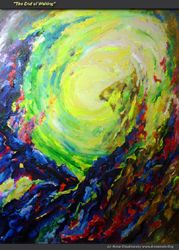 3,4- Diptych "The Couples"
5,6- "Total Control" and "Loss of Control"